Cardamon Tea Lounge
The Cardamon Tea Lounge and Shop in Colchester Essex hosts a monthly themed afternoon tea. For the month of September welcomed the wonderful Be Our Guest, Beauty and the Beast inspired afternoon tea.
They offer over 50 varieties of tea and lots of other savoury and sweets treats in a traditional tea room environment.
Be Our Guest Afternoon Tea
This wonderful Beauty and The Beast inspired Afternoon Tea is one of my very favourites. Accompanied by Mrs Potts and Chip, this afternoon features wonderful theming based on the much loved tale of Beauty and The Beast. The Be Our Guest Afternoon Tea comes beautifully displayed on a traditional cake stand.
Savouries
The savouries are French themed and really delicious. You receive a chicken and cranberry croissant, Brie and apple mini roll and Croque Monsieur cheese and ham wraps. Alongside the sandwiches you receive a mini salad served in a tea cup!
Sweets
The sweets are a real treat with this Beauty and The Beast themed afternoon tea. You receive very own chocolate Cogsworth, a macaroon served in a mini clear dome, a Belle themed lemon cake, 'Try the Grey stuff it's delicious' sweet treat and a strawberry mousse parfait served in a tall glass.
To accompany the sweets, a vanilla dress shaped scone is served with clotted cream, jam and a chocolate pot. The scones and cakes are all made in-house and are very fresh and delicious. The lemon cake is covered in sweet buttercream icing and crusted with sugar, amazing!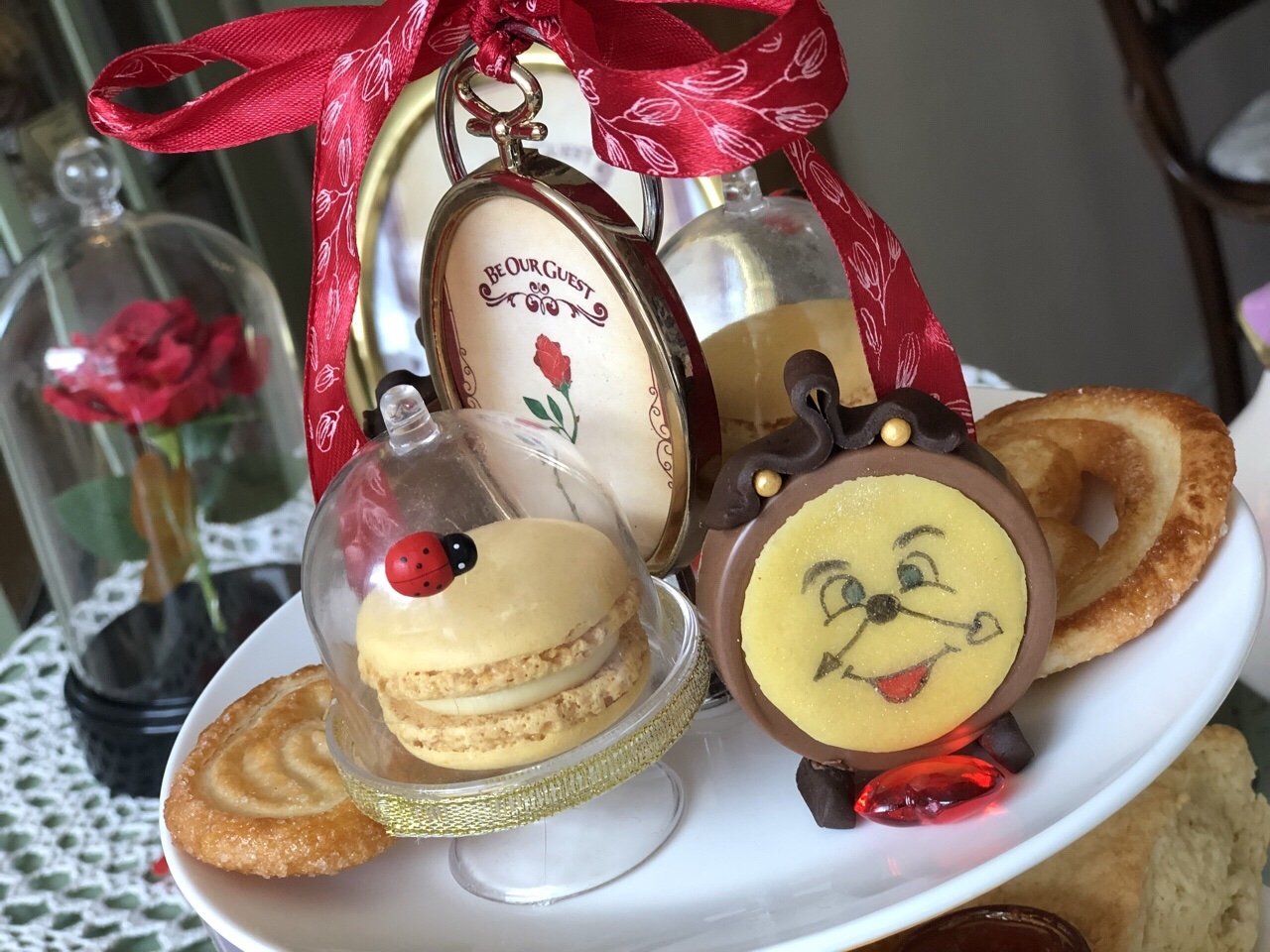 Children's Be Our Guest Platter
A children's version of the Be Our Guest, Beauty and The Beast inspired afternoon tea is also available. Each platter comes with a teapot and dress shaped sandwiches, a mini croissant and a mixture of themed snacks and treats, along with a drink. They are always so beautifully put together and children love them! So much attention to detail. They are very reasonably priced at £9.50 per child.
The Be Our Guest Afternoon Tea is £25 per head and available to book at the Cardamon Tea Lounge & Shop in Colchester. Pop over to their website or Facebook page to book or for further information.
To read our reviews of Cardamon Tea Lounge's other fantastic themed afternoon teas in Essex. Please see below:
Wizards themed Afternoon Tea, for any Harry Potter fan.
A Tale of Peter Rabbit Themed Afternoon Tea.
Mary Poppins Themed Afternoon Tea, Practically Perfect in every way.
Sherlock Holmes Themed Afternoon Tea.
Charlie & The Chocolate Factory Afternoon Tea
Silly Old Bear Afternoon Tea.
The Cardamon Tea Lounge features in our list of the Best Afternoon Teas in Essex, please see here.
Thank you for reading Be Our Guest – Beauty and the Beast inspired Afternoon Tea. Written in collaboration with the Cardamon Tea Lounge, all views and opinions are my own.